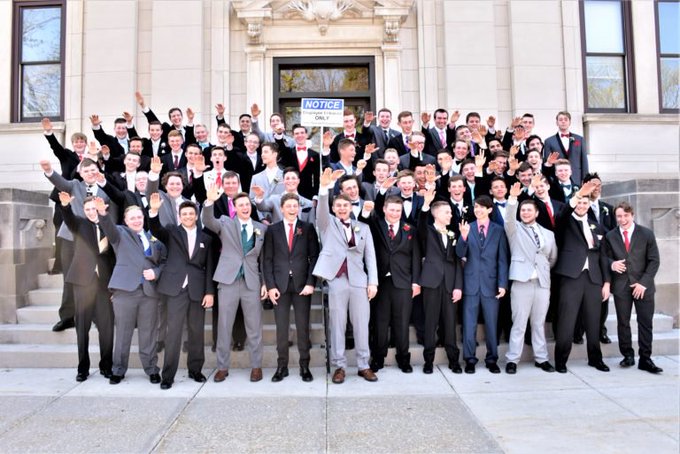 There is at least one bright spot here.  The young man is the back row on the far right is not giving the 'Sieg Heil' salute.  He states and it shows in his face that he is uncomfortable with the actions of his peers.   His name is Jordan Blue.  The following is what he had to say.
"I couldn't leave the photo as it was taken within 5 seconds," he says in the statement. "The photographer took the photos telling us to make the sign, I knew what my morals were and it was not to salute something I firmly didn't believe in. I attend BHS, these classmates have bullied me since entering middle school, I have struggled with it my entire life and nothing has changed. These are the boy of Class of 2019, nothing has been done and my question is.. With anything ever be done. I truly & firmly believe we need to make a change to this horrible act, it needs to stop. Bullying. Immaturity. and just taking things as a 'joke'…"
If you look closely at the picture a young man in the front row is also not giving the Heil Hitler salute; however, he is giving the 'Okay' sign or the white power hand sign.  He is 5th from the left.   There also to the left of the sign reading Notice, is another young man that is not raising his right hand.  He doesn't seem to be enjoying the moment either.  At least two additional young men appear to eschew the Heil.  The 'Notice' sign and to the right is a young man whose face is partially obscured doesn't appear to be heaving up his arm.  In the back, a boy with red hair whose head is directly positioned to the right of the 'Notice' sign looks uncomfortable with whole affair.  Of course in the front on the far right is another young man that is not offering the saluted but he is laughing.
I cannot speak for other parents, and I suspect that most find this unflattering.  Some will see this as a harmless prank but it's not.  It serves to paper over and make light of a dark chapter in our history.  A history that is not so distant that those who lived through it have left the earth.
I don't believe all these boys are Neo-Nazi's or adherents of that ideology.  They probably think of this as a harmless prank, all but those few pointed out.  It is alarming that only a few see the shame in what they are being asked to do, and that so many of them do it without thinking.
And what of the photographer that snapped the picture?  Hopefully someone will name him or her.  It's only fitting that they receive the "full reward" for asking these youth to slander themselves.